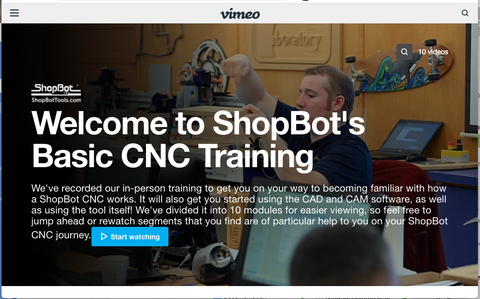 Basic CNC Training Online-Access Video Recording
#
ShopBot has offered a Basic Training class at our Durham, NC headquarters for many years. The intent of this course is a focus on beginner and intermediate CNC users to teach them how to use their machine: everything from loading software and creating a design using the software, to generating a toolpath and actually cutting a project on the tool. Experienced users also find Basic Training to be useful as a refresher for tool maintenance, updates to design software, and control software. 


We are now making this Basic Training available online and have broken it down into a set of 10 video modules. It will provide you with an overview of how the tools work and how to get started, as well as learning to work on file creation, and much more. 

Here is a list of some of the topics that will be covered: 

Introduction to ShopBot Control Software and mechanical systems.
Basics of loading software.

Basics of moving a ShopBot tool.

What is a cutting file, and how do you run one? Creating a design in VCarve Pro software. Toolpath generation for efficient and safe cutting of your design.
Converting your project file into a ShopBot cutting file.
How to preview your part file in the ShopBot Control Software before cutting.
What is the difference between all the bits and why to choose one vs. another.

Cutting out of the final project.
Prior to starting on these training modules, it is suggested that you download the demo version of VCarve Pro (if you don't already have it) and familiarize yourself with the software to get the most out of the information in these training sessions. You can find the demo version of VCarve Pro on the Vectric website: http://www.vectric.com/ 



The cost for one-year of access to this training is $175.
---
We Also Recommend